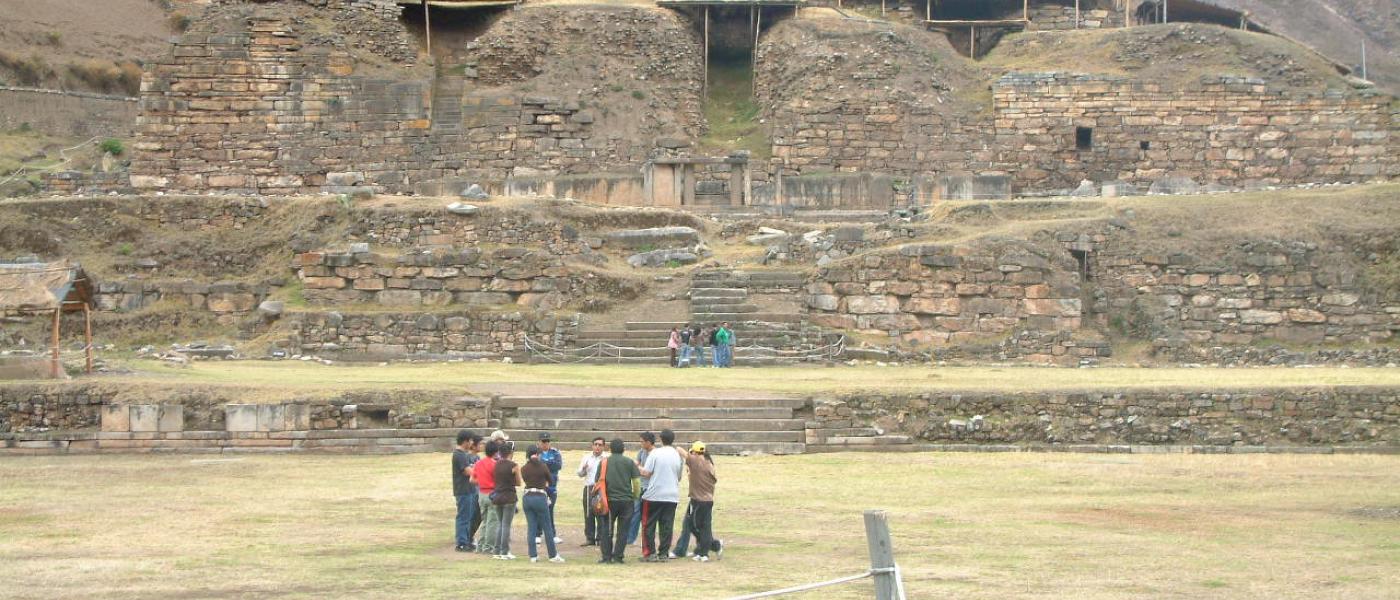 12.- OLLEROS – CHAVIN – CORDILLERA BLANCA
Duration: 4 day
Itinerary:
Day 1: Acclimatization tour in the Callejón de Huaylas, visit to the towns of Carhuaz and Yungay (Holy Camp), the Llanganuco Valley, Lake Chinanqocha, Lake Orqonqocha, Caraz and Huaraz (3090m). Night in a hotel.
Day 2: We will leave Huaraz and start the trek at 8:30 a. m. We will go to "Azulwanga," where we will see the Andean ritual of the "Payment to Pachamama," with coca leaves and the offering to the "kintus" and the "Wanka". This "Hatunkarpay" The campsite is located in Tsakracancha (4000 m.), where we will enjoy an Andean dinner and listen to Andean tales.
Day 3: Our trek will continue along the artistically paved pre-Incan trail. We will climb up to Yanashayash Pass (4700 m.), the highest point of the circuit. At the pass, we will share in the offerings of the locals at the windows of the Apacheta.
We will go down to the camp of Shonqopampa (4150 m.). After dinner, we will be visited by the inhabitants of Chichucancha and Jato, who will perform their Andean music and dancing with our participation.                                                                                                                                                                      
Day 4: Continuing to wards Chavín, we will stop at Chichucancha, one of the Andean communities that maintain their ancestral traditions in their homes in the style of the Incas. It will be interesting to see the mountain "Huantsán" (6366m.) and the Hirka of Andean Cosmovision, from where the Huacheksa Valley originates, through which we will descend to Chavín de Huantar.
In Chavín, we will visit the Archeological Center before returning to Huaraz, where we will arrive at around night in the hotel.
The Programs Include:
- Private transport to the start and return point of the circuits
- Guide for trekking
- Food for the whole of the trek
- Huascaran National Park entry ticket
- Cooker
- Muleteers and Donkeys
- Kitchen and dining room tent
- Two-people tents
- Logistic
Does not include:
- Food in the city
- Fizzy and alcoholic drinks
- Technical equipment
- Personal expenditure and things not mentioned in the program