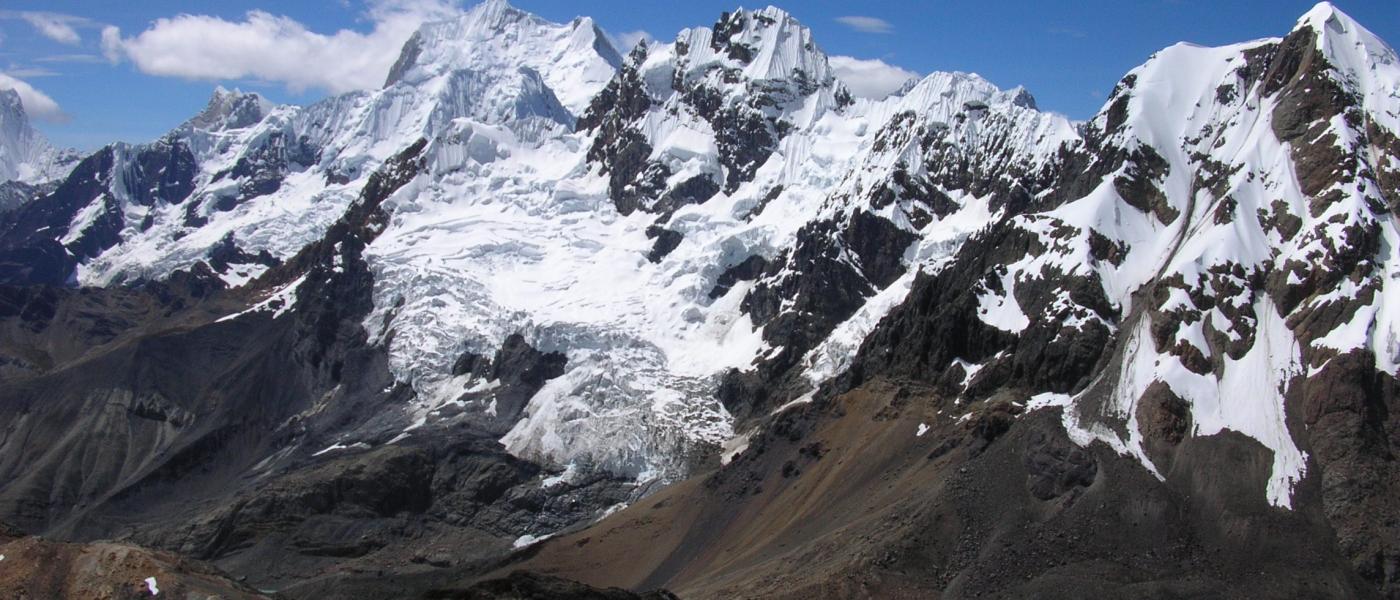 RUTA ALPINA HUAYHUASH - 2019 - 2020
Duration: 8 days
Itinerary:
Day 1: Starting from Huaraz to Llamac Village and ending at the beautiful solterococha campsite. Time: 5 to 6 hours of walking at a distance of 11.6 km. With spectacular views of the mountains: Rondoy, Jirishanca, Toro and Yerupaja, gradually towards the Achin river valley to Solteracocha.
Day 2: From Jahuacocha following the Alpine circuit between Andean outcrops to reach Lake Garagocha 4500msnm. 5 to 6 hours, we find a rappel station from 40 to 50 meters above sea level, along an edge reaching a wide ledge with a view of the Mitucocha lagoon 4230 meters above sea level. arriving at the Laguna Garacocha camp.
Day 3: From the Garagocha lagoon camp at 4500 masl, make a diagonal ascent through limestone rocks very eroded to the base of a rock wall to make an approximate rappel of 50 masl camping in the Mitucocha lagoon at 4230 masl .
Day 4: From Mitucocha through the moraine that surrounds the Gangrajanca lagoon, to the Gangrajanca pass and the Siula pass to the Huayhuash camp at 4400 masl.
Day 5: From Huayhuash following the path until the division of the trapeze pass 4910 masl., Through the moraine to the camp of the Jurau lagoon 4343 masl.
Day 6: From the Jurau lagoon through the valley of the north lateral moraine to the lagoon of Sarapococha, then through the pass of Velilina 5060 masl, continuing towards the north along an impressive crossing with spectacular 180 ° views. They are among the best of the Alpine Circuit, including the famous Siula route, by Simpson, we arrive at the camp at the mouth of the Caramarca lagoon at 4575 meters above sea level.
Day 7: Caramarca Lagoon Climb up the moraine crest, to reach a rocky plateau by the Rasac pass 5129 masl, with a good view to Barrosococha, Rasacocha continuing to Solterococha 4120 masl, camping in Jahuacocha .
Day 8: From Jahuacocha hike to Llamac from where we will travel by bus to Huaraz.
The program includes:
- Official Mountain Guide
- Round trip transportation
- Complete feeding during the walk and mountain
- Ticket to the communities of Huayhuash
- Tent for 2 people
- Cooks
- Porters
- Logistics
Does not include:
- Food in the city
- Soft drinks and alcoholic beverages
- Mountain technical team
- Personal expenses not mentioned in the program